This is a guest post by Andrew Betts
It might seem as though there are almost too many sight options out there today, but that diversity results in a fantastically robust market that can produce a sight for virtually any set of needs. The Shield CQS is a mini red dot sight in the style of the Burris Fastfire or Trijicon RMR and uses the same mounting post pattern as the Dr. Optic and J-Point. The CQS is a civilian derivative of the CQB, which was adopted by the British Ministry of Defense.
The first thing that really stands out is how robust and heavy duty the case is. It feels like it could really take a beating. It is water proof and has a lens in the front and rear to prevent water ingress. One of the most welcome features is the battery compartment on the side, which allows the battery to be changed without disturbing the zero.
There are several reticle options available, which should allow you to choose one which best suits your needs. The one I received was the 2 MOA dot. I'm a big fan of this size reticle on a fighting AR. If it is bright enough, and if you have the muscle memory to get a proper cheek weld every time you shoulder the rifle, a 2 MOA dot is big enough to pick up very quickly, but it is also small enough to make more precise shots.
The reticle does strobe noticeably, which might annoy some users, but the effect is slight and it helps the eye find the reticle more quickly. It was certainly bright enough in every condition, except for near total darkness with a weapon mounted light and against a white wall. In all other conditions, including looking from a dimly lit room out into a bright, sunny area, the reticle was bright and easy to see. It's not so easy to accomplish this. Many auto adjusting reflex sights will either appear too bright in dim conditions or too dim in bright conditions.
Of course, the physical dimensions of the sight limit the field of view. That is something that is simply unavoidable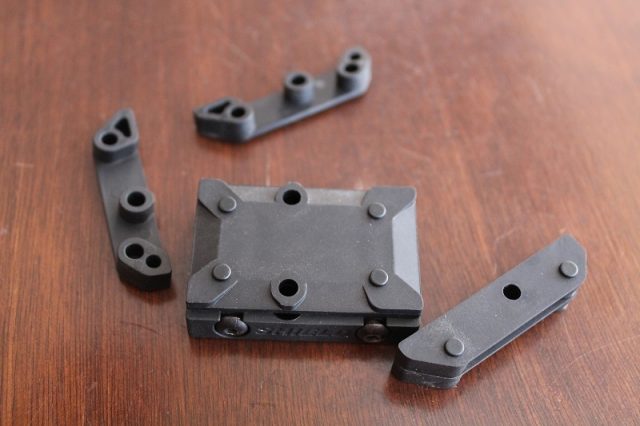 with a sight of this size. Field of view is not really as much of an issue with a non-magnified optic, though, because you can still see everything to the sides and top of the sight.
Operation of the sight is about as simple as it gets. It comes with the battery installed already so the only thing to do is to mount it to the rifle and zero. The only thing approaching a control on it is a sliding cover that can obscure one of the light sensors and essentially shut the sight off, which should help preserve the battery if the sight is to be stored in a well lit area.
Zeroing the sight was fairly easy but the windage and elevation screws have notches that are a bit too wide to conveniently use a coin or cartridge rim and there are no clicks. There was significant friction on the screws as I adjusted them though, so I don't believe there is any reason to worry about a shifting zero due to the lack of clicks. The witness marks on the screws make precise adjustments easy enough and to be honest, the lack of clicks means that the screw can be set to a place that would be between clicks if it had traditional 1/2 MOA clicks, resulting in a theoretically more precise zero. It really is just something that I've grown accustomed to.
The one thing that was really pretty bad was the mount that came with the sight. It is a glass filled polymer. When I mounted the sight, I tightened the screws pretty firmly. I didn't do the old "tighten until it loosens and then back off a quarter turn," but I got them good and snug. After a couple weeks of knocking around on range trips and a javelina hunt, the screws had come loose and the zero had shifted. I believe this was solely the fault of the mount and that the plastic had been compressed by the screws but I didn't have another mount to check my theory. The representative from Shield did advise me that they are looking at including a better, aluminum mount in the future. For the time  being, it's worth noting that a lot of sights don't come with any mount.
My opinion is worth exactly what you paid for it, but if you've read this far in the article, you may care to hear it. I probably would not choose this sight for a gun whose primary job was home defense because of the problem it has with white walls when a weapon light is the only source of illumination. If it had an option to manually set the brightness, that assessment would be entirely different.
As it is, the Shield CQS is a fantastic choice for competition, camping, hunting, truck gun, or for a rowdy civil disorder type situation. It may seem like I'm being a little tough on the sight with so many other good things going for it, but with the choices that are available, there is just no reason to settle on even little points. It's definitely a solid sight, though and I hope to get a chance to review the PSD. You'll find a link to purchase below.
http://www.brownells.com/optics-mounting/electronic-sights/red-dot-sights/cqs-2-moa-red-dot-sight-prod82467.aspx
Andrew Betts served with the Arizona National Guard for over 12 years, including a tour to Afghanistan. Visit his YouTube Channel for more great shooting information.