This is a guest post by Scott Sylvester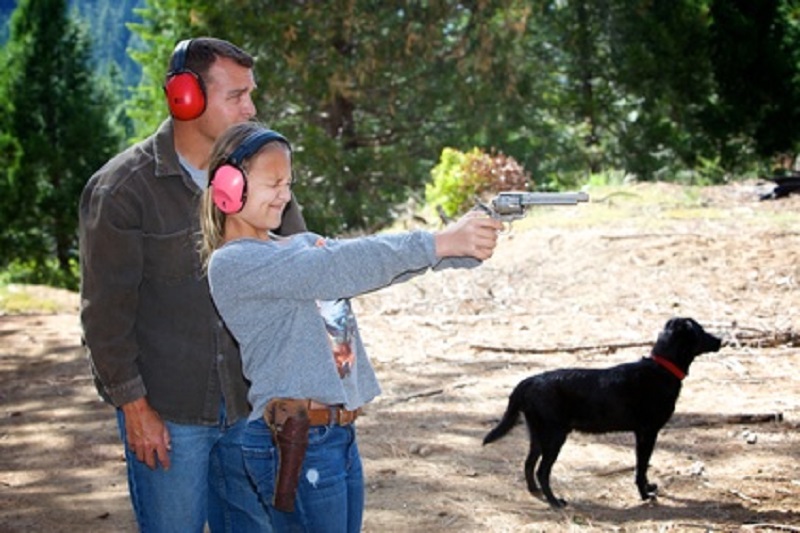 I've seen shooters at all levels that struggle to some degree with "flinching," or what we commonly call anticipation. This is evident when you look at a target of a student and see the rounds striking the lower left area because just a split second before they fire, they "flinch" and the final aiming point and muzzle dips and turns resulting in a low hit or miss. (Opposite for left handed shooters)
New and less experience shooters, or those who do not practice regularly struggle with anticipation. The primary causes of anticipation are: Fear or uncertainty, improper grip, and lack of practice or training. The good news about "flinching" is that it is curable with a little bit of work.
Fear or uncertainty is usually the first thing we need to address. Everyone has an aversion to pain and new shooters and those who are inexperienced or do not shoot frequently enough are afraid of being hurt by the handgun when it discharges, cycles, or both. There is also quite a bit of anxiety or uncertainty that also needs to be overcome. To be a good shooter you have to tolerate a bit of discomfort, but that can be minimized and managed by a little bit of practice and confidence.
I tell all of my students that the "scary" noise and the mechanical actions happens faster than they are able to perceive it, and none of it happens until micro-seconds AFTER the bullet leaves the barrel of the gun on its way to the target. So getting the perfect shot in the right place happens before any of the things we are uncertain or afraid of, actually take place. So getting the round to hit what you are aiming at is a simple application of the fundamentals… and then the "scary stuff" happens.
I know this information is not comforting to the timid shooter, so let's analyze the second part of this problem. More gun than you can handle! You need look no further than Youtube for endless videos of idiot boyfriends handing their girls or guy friends extremely large caliber hand cannons, offering no training or advice and then laughing hysterically when they get hurt. These videos breed stereotypes and fear among potential new shooters. Hollywood doesn't help either when they wrongfully depict a handgun discharging and sending the shooter flying backwards.
If you are a timid, new or inexperienced shooter, start with a small caliber handgun and build confidence before picking up something larger. A defensive caliber does not have to start with a point four (.4-) to be effective. (Uh oh… I just said calibers less than .40 are good for defense… Brace yourself for the hate mail)
I have handguns available to rent for my courses and they are usually .22LR or 9mm. I also use steel frame handguns that are a little heavier to help mitigate some of the recoil. Starting off with something manageable helps assuage some of the fear or uncertainty. When they are expecting a civil war cannon bang and all they get is a sharp pop, shooters realize that handling a firearm is not that difficult after all.
It only takes a couple hundred rounds for confidence to soar and after seeing how well you can shoot a small gun, most shooters are eager to step up to something bigger. So if you are learning to shoot start small.
The second part of the flinch equation is an improper grip. I teach and strongly advocate the 100% or thumbs forward grip. Shooters of all sizes, strength and skill levels have had great success using this grip. Using your Google-fu you can find dozens of articles on this style of grip and its numerous advantages. This two handed grip style will give you the maximum skin to surface contact on the handgun as well as the best position to manage the cycling of the slide during recoil.
If you page through the Home Defense Gun (.net) site you can find an excellent video that demonstrates this grip. If you are improperly holding the handgun, the recoil you are absorbing will be felt to a much greater degree than necessary, which will cause pain or extreme discomfort and cause you to "flinch" unconsciously.
The best way to fight the flinch is to seek out quality training and practice on your own. I recommend a lot of dry fire practice if you have a problem with anticipation or flinching. Dry firing means that you develop strong neural pathways (muscle memory) without any of the "scary" stuff happening. By focusing carefully on the fundamentals of proper trigger press, sight alignment and follow through without having to worry about the noise or mechanical action will allow you to grow comfortable and confident. When you do finally hit the range you can apply the skills you acquired during dry fire practice. With a solid foundation to build on, the right grip, and a manageable caliber handgun you will be well on your way to ending the "flinch" or anticipating.
To end the fight against the flinch once and for all you will need practice.
Here is a drill I recommend to anyone struggling with anticipation or "flinching." Take a handful of empty casings and as you load your magazine or cylinder, randomly place an empty casings into the magazine interspersed with live rounds. (Or have someone else load your magazines randomly).
As you shoot on the range, you will not know when your gun will go bang or click and if you have a problem anticipating the recoil or flinching, you will catch yourself doing so as the hammer falls on the empty case. When you pull the trigger and there is no bang, no mechanical reaction and you still flinch and drop the front sight down and left in anticipation… you'll feel really silly. After a few bouts of this behavior your concentration level will increase, and since you do not know when the gun will really fire, you'll fight the flinch, stay on target and start making good hits.
Try this out and post your results, I'd love to hear your feedback.
Once you master the smaller caliber and the fear and uncertainty fades, challenge yourself and pick up the next larger caliber available. Confidence comes quickly with a little practice and training. Once you grow accustomed to the motion, mechanical action and the noise, you'll start to relish the discomfort you feel and after a while, you'll enjoy it… from there you'll be well on your way to being a top notch shooter.
Train hard, stay safe.
Scott S
Your mind is the weapon, everything else is just a tool! For more information please visit our website at:
www.oneweaponanytool.com or find us on Facebook. For more firearms, safety and personal
protection articles, videos and sound advice visit my friends at www.homedefensegun.net or search for
Home Defense Gun on Facebook.